Worship Experience
So...what is it like to experience a worship service at Pearl City United Methodist Church?
---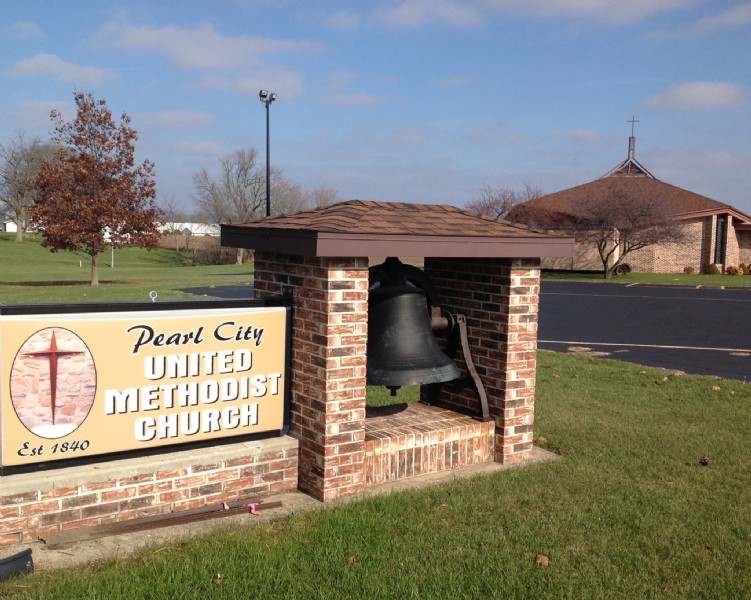 Our Facility
Built in 1979, our church is in "church years" relatively young. Therefore, it was designed with seniors and those needing physical accomodations in mind.
After parking in our ample parking lot, simply walk towards the double doors. Upon entering, the sanctuary is mere steps from the front doors. So unlike some other churches you don't need to fear getting lost on your way to worship as you try to navigate a maze of hallways and stairs.
Our sanctuary can comfortly fit 140 "normal" sized people, and yet feels just as warm, homey, and comfortable with half that many. Also, there aren't any assigned seats, so sit where you feel most comfortable.
As you come into our church, you will be greeted by members of our congregation who will give you an order of service (a.k.a. bulletin) and will be happy to answer any questions you might have, such as a) is the pastor available?, b) where are the restrooms, or c) do y'all ever use snakes in worship? [The answer to that last one is an emphatic, "NO!"]
If you are visiting us with your children or grandchildren, make sure to ask for a "busy bag" full of activities, games and treats.
---
Call to Worship/Opening Prayer
Following the Announcements a lay member of our congregation (i.e. non-clergy/non-pastor) will get up and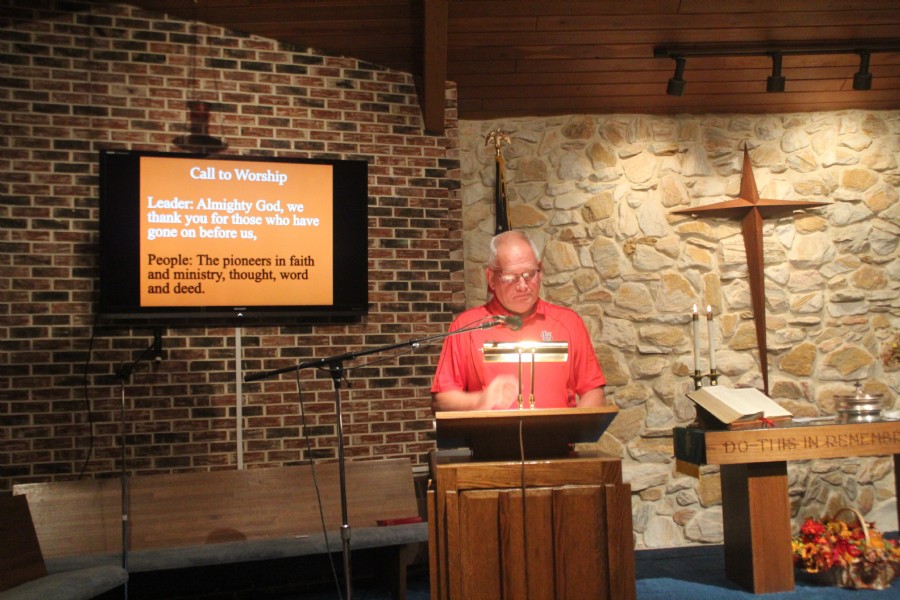 lead the congregation in our Call to Worship which will be on the screen and printed in the bulletin.
Then there is another song/hymn.
Beginning of Our Worship Experience
After some brief announcements, participants are asked to stand and join in singing an opening song which will always be displayed on the screen, but are very often also found in the hymnal on the back of the pew.
Please note: while there are certainly those among us with the gift music (vocally and instrumentally) we are FAR from being at all "choir-y." We have those who sing beautifully, those who sing joyfully out of tune, and we have those who choose not to sing at all. The choice is yours.
Additionally, at this time a younger member of our congregation will process forward with the pastor and will lig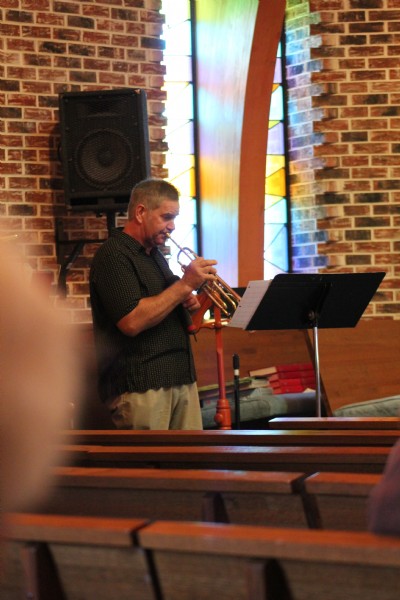 ht the candles on the altar. This is done to help us remember that the Holy Spirit is always with us when we gather.
---
---
---
Children's Message
Pastor will invite the children forward for a short devotional time with them. If you have young children with you, they are more than welcome to come and join, but they are also free to stay with you if you wish.
During this time, which is usually hilariously unscripted, Pastor will highlight one of the points from the sermon he will be giving later on. Since our Sunday school experience starts immediately after this Children's Message, we feel it is important that they at least get a taste of what Pastor will be talking about so that a) if they are lucky enough to remember it later, their parents/grandparents will be able to understand the questions they are asking and b) it gives the adults in attendance a "scriptural appetizer."
At the conclusion of this very often sweet time, Pastor will dismiss the children down to their Sunday school classrooms (in the lower level). At this time we have two separate classes and while your children are certainly invited to join in the educational fun, we understand if they might be hesitant to leave and are perfectly welcome to stay in the sanctuary.
Our primary goal with those youngsters in attendance (and their parents) is to make them feel welcome, comfortable and unafraid to express themselves at any time. Therefore, don't fear or fret if you have a child who has trouble with his/her "inside voice" or has a "squirmy butt" that sometimes needs to get up and walk around or cries out for any reason. We believe the heartbeat of the church is the sound of children in the sanctuary.
---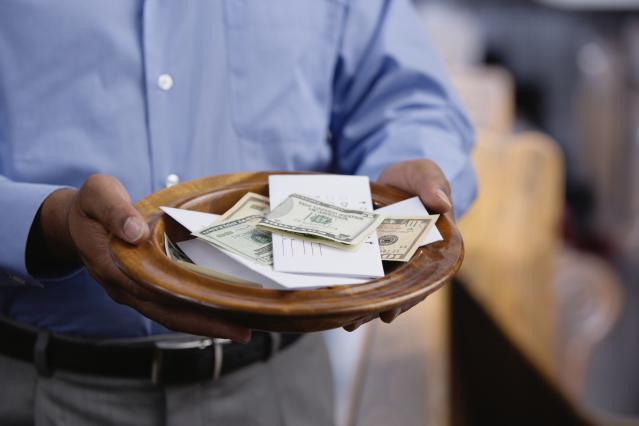 Offertory
As the children are departing back to their seats or to Sunday school, Pastor will share some brief thoughts regarding the importance of giving our monetary (and non-monetary) offerings as a witness to our faithfulness and dedication to a God who provides us with everything.
The ushers will then begin to pass the offering plates through the aisles as the worship leader leads the congregation in another hymn.
Whether you put something in the plate or not is between you and God. There will NEVER be an occasion during your time at Pearl City UMC that we will ask you how much you are putting in the plate. Nor is there an expectation that anyone should be required to put anything in the plate every week.
Some members choose to give once a month, others have their offering taken directly out of their checking accounts, some people forget their checkbooks occasionally, and soon we hope to be able to offer online and credit card options for offering. All this is to say, if you do not feel comfortable putting an offering in the plate that is perfectly acceptable. No one in the congregation will think anything of it.
Following the hymn, the pastor will indicate for everyone to stand (as you are able) and we will sing the Doxology (a traditional thanksgiving song for the blessings God provides) as the usher bring the offering forward. The pastor will place the offering on the altar and then will ask the congregation to join in a Prayer of Dedication. Note: the Doxology will be on the screen, the Prayer of Dedication will be both on the screen and in the bulletin.
---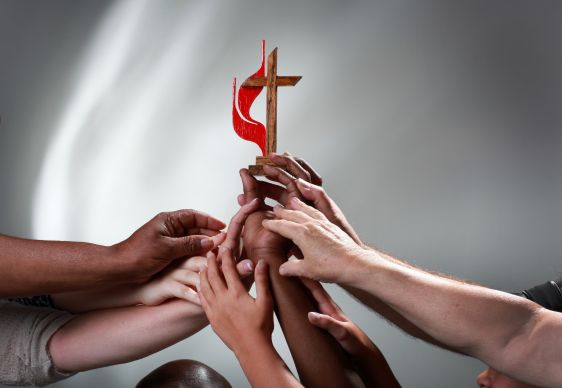 Prayer Time
While United Methodists believe that having a private, individual prayer life is important, we acknowledge that throughout the history of Christianity corporate prayer (the prayers of an entire congregation) and intercessory prayer (prayers for each other) are equally important.
Therefore, we begin our time of preparation before the scripture, the sermon, and/or the sacraments with both. Pastor first leads the congregation in a centering prayer, based either on the lesson to be covered in the sermon or concerning current events within the life of the congregation, the Pearl City community, or in our world.
Following the centering prayer, Pastor will ask for what Joys and Concerns the congregation would like to lift up for prayer and for the benefit of all. These are typically defined however the person requesting wants to define them, but typically a joy is a event, a moment, or a particular blessing of God that occured to them, their family or their friends in the previous week. Concerns then are simply that: concerns in one's personal life regarding work, family, health, etc., in the life of a friend or family they are close with, or for larger, more abstract concerns in our community, country or world.
As a visitor, you would be more than welcome to share whatever you would like to lift up, but you are equally welcome to keep your joys and concerns to yourself.
After it is clear that everyone has expressed what they wanted to express, Pastor will ask everyone to join in prayer in which he will a) lift up prayer for the joys and conerns expressed that morning, b) offer a moment of silence to lift up any joys or concerns people did not feel comfortable expressing aloud and then c) lead the congregation in the recitation of The Lord's Prayer (which can be found on page 895 of the hymnal).
---
Scripture and Sermon
As we get into what we call "The Ministry of the Word," scripture will either be a) read by a layperson, b) read by the pastor, or c) read by someone on our video screen.
Following the scripture reading, Pastor will begin his message/sermon. Often utilizing different images and illustrations on the video monitor, Pastor attempts to engage the scriptural texts in a way that can be easily understood, but also stimulating enough so that your mind has something to ponder.
While at times, though few and far between, Pastor may go over on time, his sermons are typically around 15 minutes and, because he has to lead worship at the McConnell UMC at 10:00, is also very congnizant to try to keep the service to around an hour each Sunday.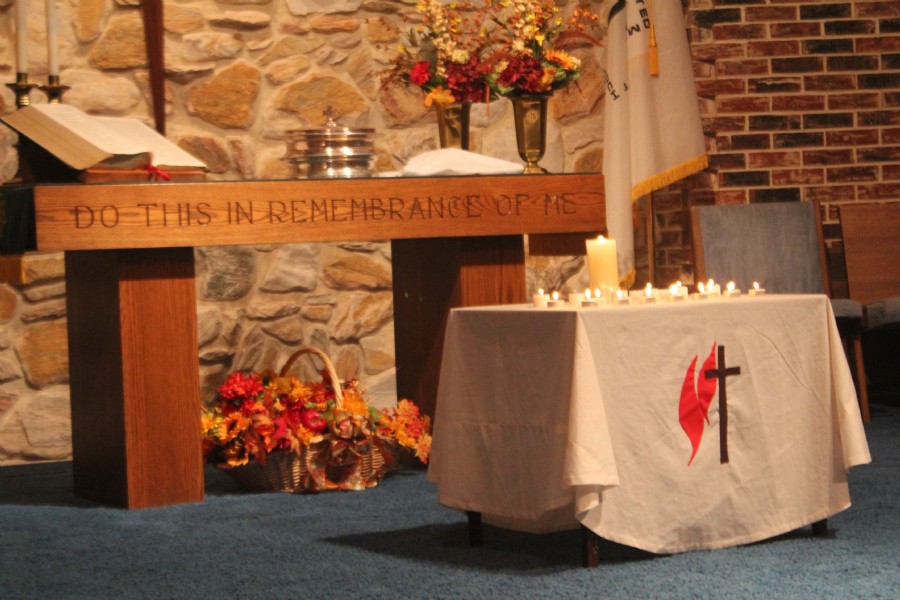 Sacraments and Special Services
Following the sermon, time is often set aside for the administration of the sacraments and/or special services. [Note: the picture shows the altar and chanel set up for both Holy Communion and our observance of All Saint's Sunday]
In The United Methodist Church, we recognize two sacraments: Baptism and Holy Communion.
United Methodists affirm the doctrine of infant baptism, but will also encourage and perform adult/believer's baptisms as well. That being said, United Methodist's believe in ONE baptism for the forgiveness of sins and therefore, unlike some other denominations and non-denominational congregations, we will not "re-baptize" anyone but we do have services of remembrance.
United Methodists believe in an Open Table when it comes to the sacrament of Holy Communion. This means that we believe that this sacrament should be open to all who openly and willingly express a desire to receive the grace of God. Therefore, there are no limitations on age, gender, marital status, sexual orientation, ethnicity, or membership that would prevent someone from receiving this sacrament. If you have a desire to encounter the living Christ through the sacrament of Holy Communion, then we are blessed to be able to provide the means for you to partake in that experience.
At Pearl City UMC we celebrate the sacrement in one of two ways: 1) you will be ushered forward to receive a piece of bread and then to drink grape juice from an individual cup or b) you will be ushered forward and asked to tear a piece of bread from the broken loaf and dip the bread into a community cup of grape juice.
In either case, those administring the sacrament will say to you, "The body of your Lord broken for you" and "The blood of Christ shed for you," and your response should be either "Amen," "Thanks be to God" or "Praise God."
Following the sacrament (or sometimes earlier in the service), special services may be initiated. These often follow liturgical Christian holidays and/or secular holidays. Examples of this would be All Saint's Day, Memorial Day, Veteran's Day, Mothers and Fathers Day, etc.
---
Closing Song and Benediction
The final part of our liturgical worship experience includes another song and then a brief Benediction (a prayer of blessing) by Pastor. At the conclusion of the Benediction, Pastor will exit the sanctuary and everyone is then free to either gather their things and leave, or mill about and share in some fellowship time with one another.